Welcome to SwissBorg! We're excited that you've downloaded our app and decided to join our community on this unique wealth management journey.
Creating your account is done in 2 parts: registration and verification.
It can be done in just a couple of minutes if you're prepared, so make sure you have a valid ID at hand and to check your mailbox during the process.
Part 1 - Registration
Open the app and tap on Get Started;

Enter your phone number and make sure you select the correct country code, then tap Next.
If your country code is not in the list, the app is likely not available in your country. You can check all supported countries here: Available in more than 50 countries | SwissBorg;

You will receive an SMS with a 6-digit code, which you need to enter in the app. If you didn't receive a code, check and if needed edit your phone number and tap on Resend SMS;

Set up a 4- or 6-digit Passcode to secure access to your account, or use the "Custom Passcode" option with a max. of 8 characters. Once set up, this passcode will be your PIN for future logins;

Carefully read the SwissBorg App Terms of Use and the Privacy Policy and slide the toggle button to accept them once you're done, then tap Next;

Enter your full legal name as it appears on your identity document, as well as your date of birth and nationality, then tap Next. If you select a country that might use non-Latin characters, you will be asked to confirm that your details have been entered correctly.

Enter your email address, then tap Next to send the verification email;

Open your email application by tapping on the button in the screen or navigate to your mailbox in your browser to open the verification email. Then tap on the Verify button to confirm your email address, then return to the SwissBorg app;

Next, you will need to enter your residential address details (if you have more than one residency, please enter your main one here);

For the last step of registration you need to answer some investment-related questions to complete your profile.
Now that the registration part is completed, you can start exploring and see all the features and services offered in the app. However, as your onboarding is not yet completed, the app is in "read-only" mode and you cannot perform any actions or transactions. It's just for you to get a feel of how our platform looks and what we have to offer without any commitment or obligations.
Like what you see? Then let's move on with the next part, the account verification! You can initiate this either by tapping on any transaction-related action in the app, for example "Deposit" in the Portfolio section or "New Auto-Invest" if you're checking out that section in the app. These actions are only available for verified accounts, and tapping on them will trigger a pop-up asking if you're ready to proceed with the verification of your account.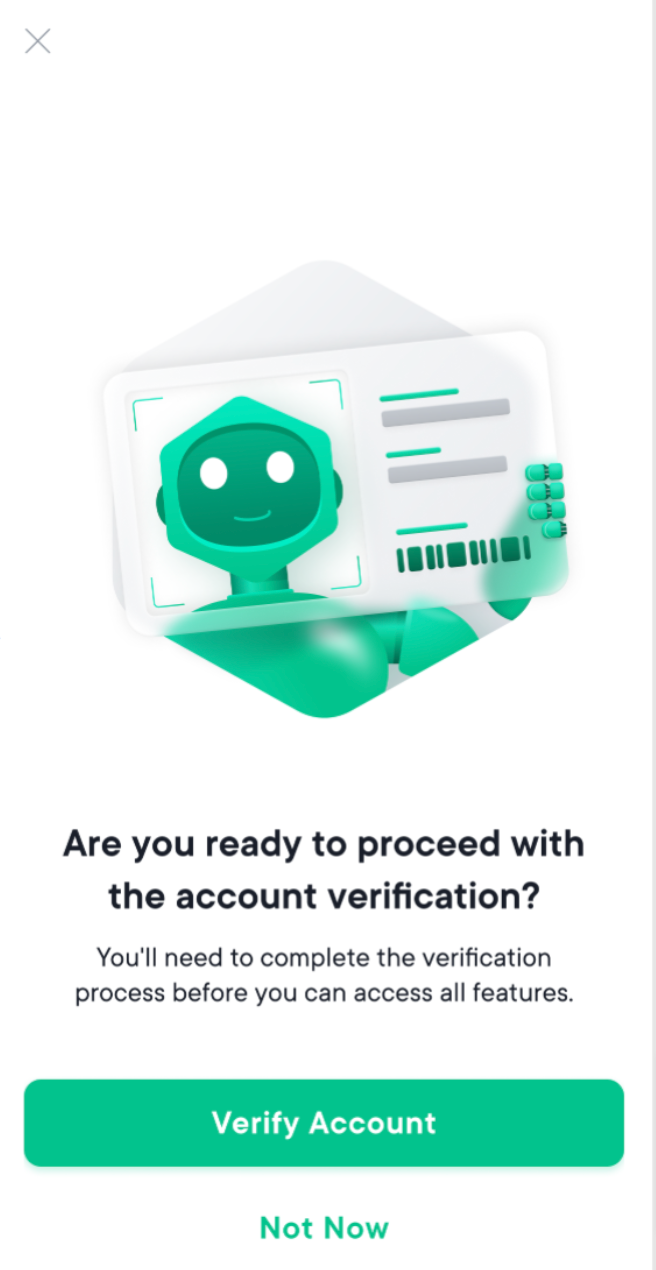 Alternatively you can navigate to the Account Level tab from the Profile section in the app and tap on "Verify Photo ID" to proceed with the verification steps.
Part 2 - Verification
Before we can proceed with the identity verification, we will first need to confirm you are not a Politically Exposed Person (PEP). As a regulated financial institution there are laws and regulations we need to abide by and for that reason, unfortunately we cannot offer our services to you if you are in such a high-visibility position.
If you are not a PEP, just slide the toggle button to the right and tap on Get Started.

The next step is passing the first KYC check, which is "Identity Verification". This is necessary to protect you against fraud and identity theft, and will help you recover your account in the future if needed. Select the type of document you want to use and the issuing country, make sure the SwissBorg app has access to your camera and take a picture of your original ID. Next you will be asked for a selfie, and moving your head left and right. This is to make sure the previously submitted ID belongs to you.
Our dedicated KYC team will review your ID and selfie and if all is in order, your account will be successfully verified for Level 1! After the confirmation you are free to start using the SwissBorg app services, including funding your account and performing exchanges.
In case some information was entered incorrectly or if there is an issue with your verification, you can see this in the Profile tab in the app. Rest assured that in this case our KYC team will contact you with more information and instructions on how to proceed.
Are you wondering why we need all this information from you?
SwissBorg is a licensed and regulated financial institution, which means that we have to be compliant with applicable laws and regulations in order to be allowed to provide our services.
For example, you need to be at least 18 years old in order to be legally allowed to invest in cryptos, which is why we ask for your date of birth.
Helpful articles
Legal information
SwissBorg: Legal structure, jurisdiction and licenses
SwissBorg: Financial Crimes Policies and procedures
Account verification
What is KYC?
Account Level 1
Funding your account
Bank deposit
Card Top Up
Top up with Google or Apple Pay
Crypto deposit