SWIFT (Society for Worldwide Interbank Financial Telecommunications) and SEPA (Single Euro Payments Area) are payment service providers that facilitate secure international money transfers. What differentiates one from the other is the geographical area in which they operate.
While SWIFT enables international transfers in different currencies worldwide (200 countries), SEPA enables transfers in EUR for SEPA zone member countries (36 countries).
You can find the list of SEPA zone member countries here.
Please note that even though Switzerland is part of the SEPA zone, only SWIFT deposits are currently available for Swiss residents.
SEPA payments are generally considered fast and convenient as they do not require Bank Identifier Codes (BIC), also known as SWIFT codes, along with other details regarding the bank and beneficiary.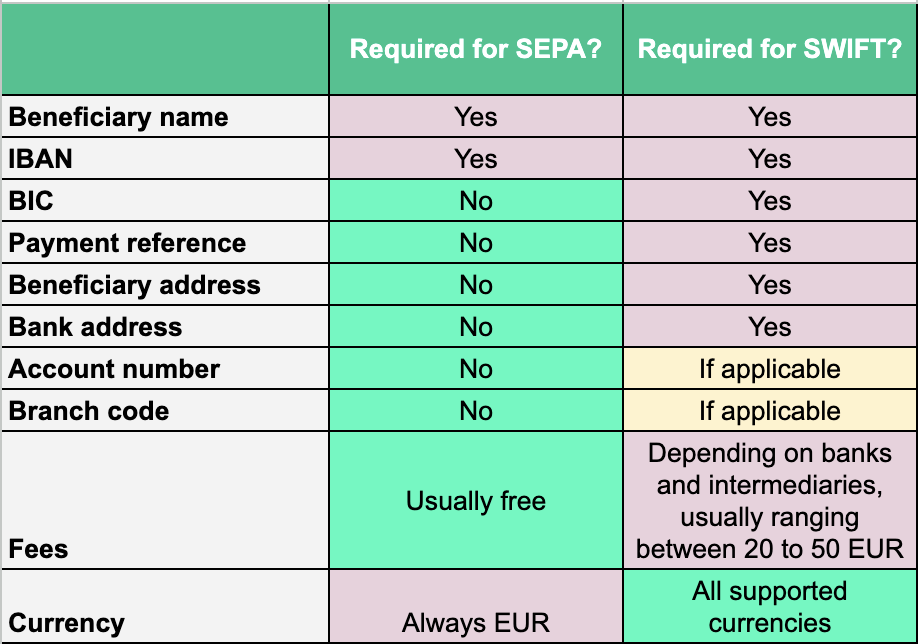 Should you go for SWIFT or SEPA?
Whether SWIFT or SEPA is a better option for you depends on where you are sending money from and where you are sending money to.
SEPA use cases:
sending EUR to a bank account within the SEPA zone - it's quick, cheap, and almost an equivalent to a domestic transfer within your own country.
SEPA payment speed: usually less than one business day.
SWIFT use cases:
sending a currency that is not EUR

sending money outside the SEPA zone
SWIFT payment speed: usually 1-4 business days.
Notes:
We offer both options as some banks can't process SEPA deposits with the bank details from the SwissBorg app. In such cases, a SWIFT deposit is the only option.

Please bear in mind that the exact amount of time necessary for the deposit to be processed will depend on the internal banking processes and working hours.