If you want to make a CHF deposit directly to your SwissBorg account, please complete the following steps:
On the SwissBorg app home page (the Portfolio section of the app), tap on "Deposit".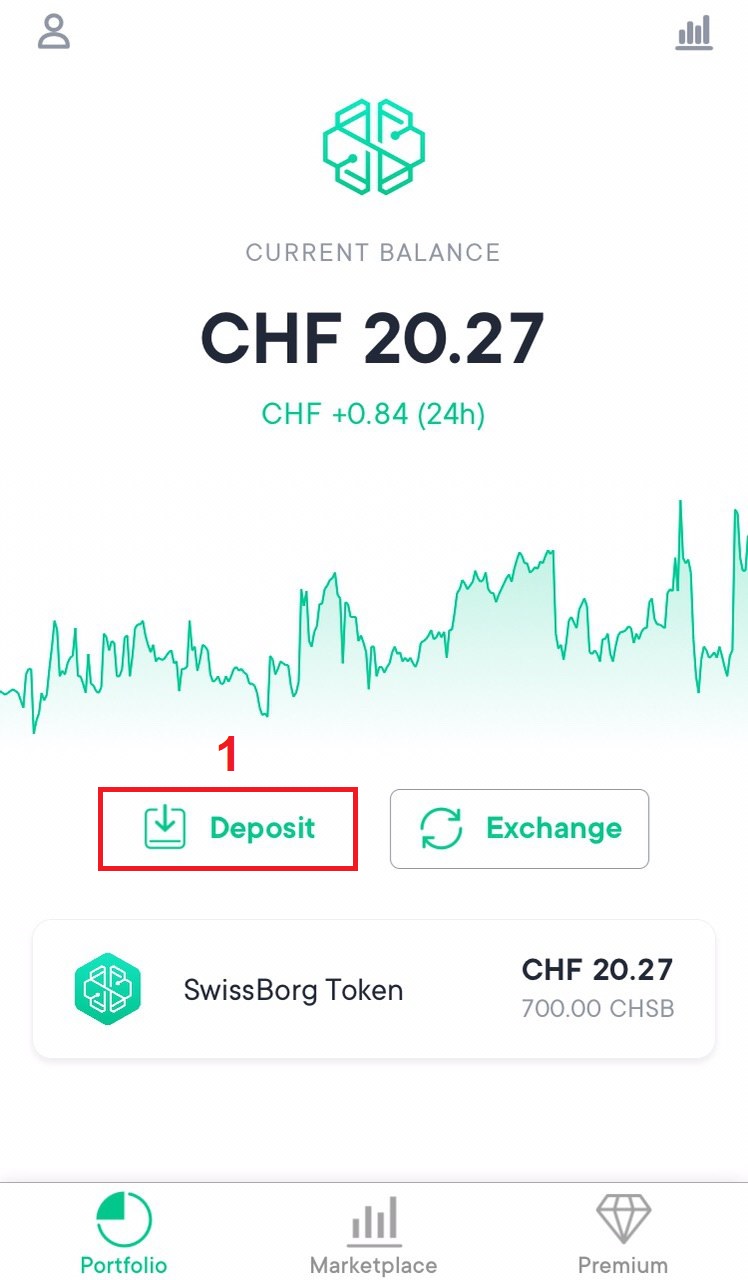 2. Next, a new page should open with sections for depositing fiat and crypto. In the section for depositing fiat, choose CHF. If it's not already listed, tap on "add currency" and find CHF among the available currencies.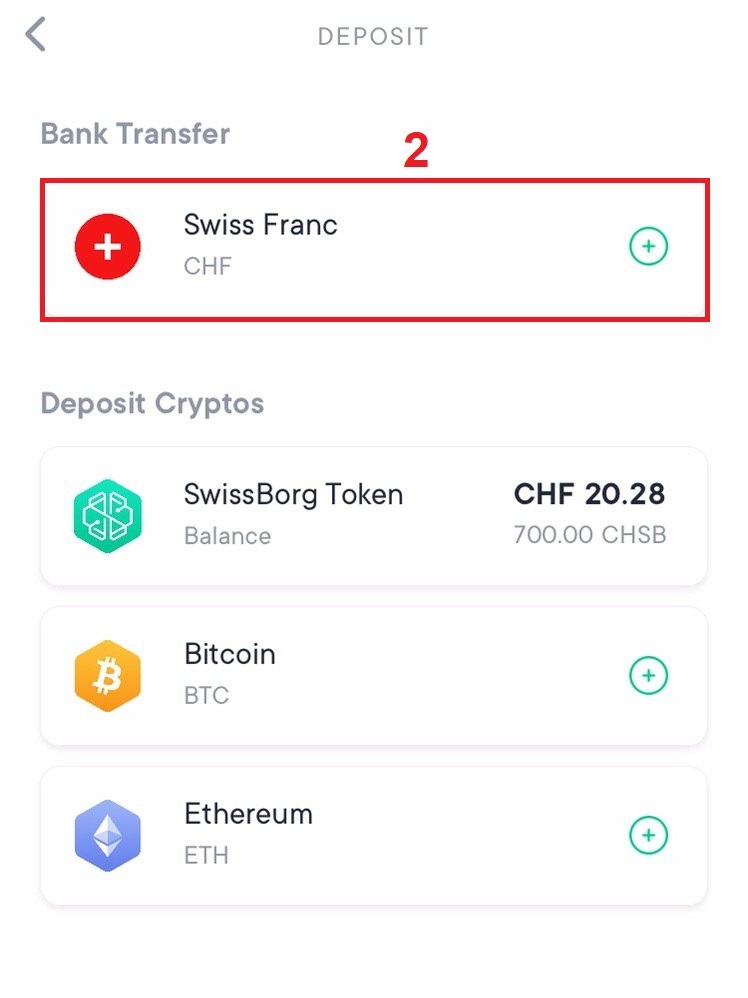 3. The page for depositing CHF should look like this.

4. On the page, you will find details for making a Local (SEPA) or SWIFT deposit.
Local (SEPA) deposits
Local deposits are associated with SEPA (Single Euro Payment Area), a system for payments in euros within the European Union and in Switzerland, Iceland, Norway, Liechtenstein, Monaco as well as San Marino.
With SEPA, cross-border payments are as easy as domestic payments.
SWIFT deposits
SWIFT deposits are made with the help of SWIFT (Society for Worldwide Interbank Financial Telecommunications), which is a global system for executing financial transactions and payments between banks worldwide.
Both options are offered as some banks can't process SEPA deposits with the bank details from the SwissBorg app. In such cases, a SWIFT deposit is the only option.
Word of caution: If you try to make a deposit using SWIFT bank details on the SEPA network and vice versa, it will be rejected. So, make sure to use the SWIFT network for SWIFT deposits and the SEPA network for SEPA deposits.
5. Tap on any row of the bank details to copy them to the clipboard.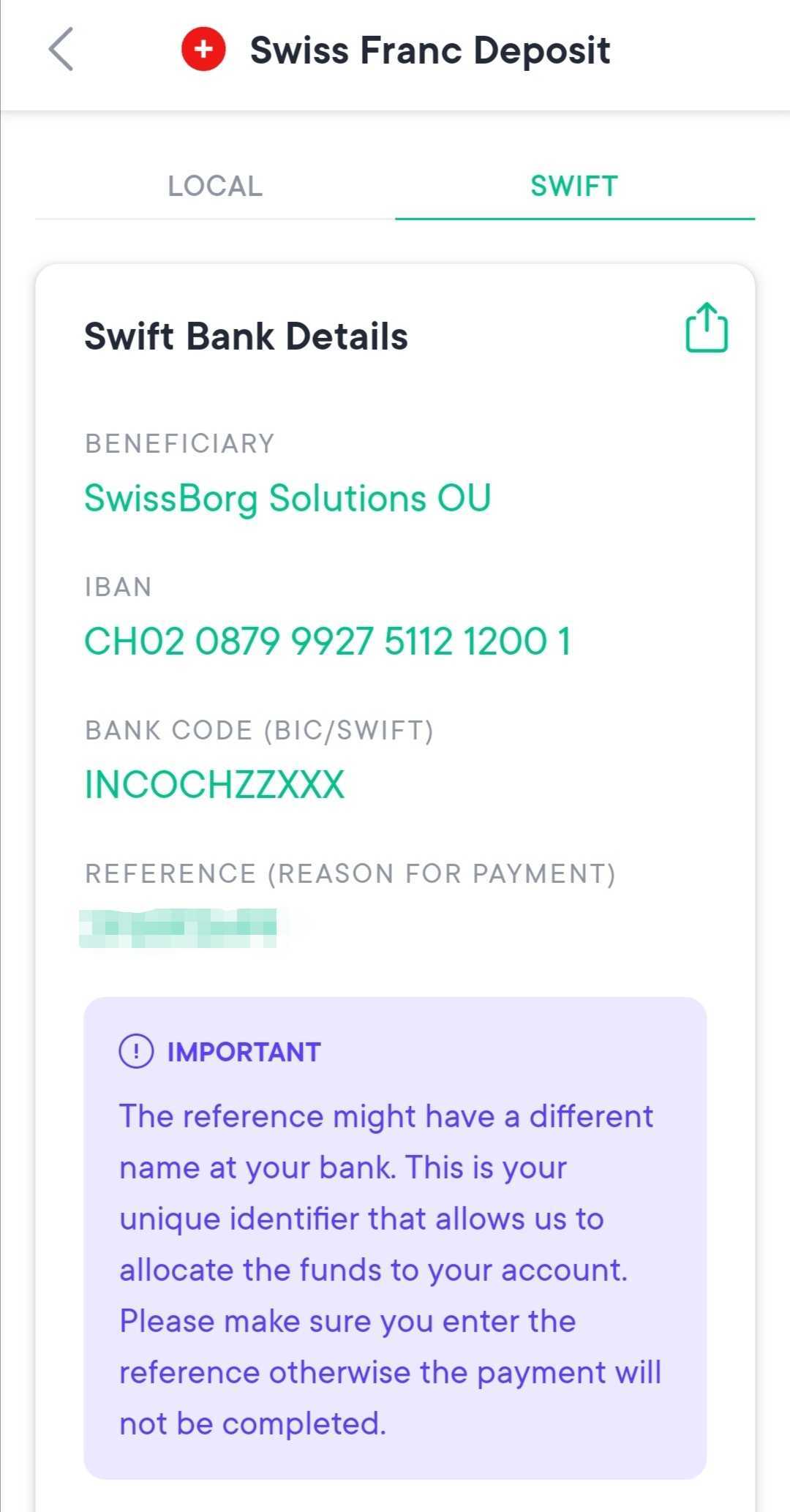 Important:
When entering the details in your banking app or giving them to your bank, please remember that the transfer must come from an account in the same name as your SwissBorg account.

Please make your transfer in CHF. If you send any other currency, we will have to convert the funds to CHF to credit your account, which may result in a double conversion.

You must use the reference code displayed with the bank details. (Some banks may have another term for this code, such as "Booking Text", "Beneficiary Message", or "Description". For Swiss Local payment, in most cases, this is not called "Reference"/"Reference code". Instead, it might be labelled as "Reason for payment" or "Message to beneficiary". Please check with your bank if you are unsure).
6. If you completed all the steps correctly, the deposit should be completed successfully.
If you need any help or are unsure how to make a deposit, don't hesitate to contact us via support@swissborg.com.
Also, please keep in mind that International fiat deposits and withdrawals might take from a couple of hours to several days (1-5 business days) depending on the internal banking processes and working hours.


Best Practices From the Community
Below you can see some tips on how to make a deposit and pay the lowest transaction fees.
This information has been gathered from the SwissBorg community members, and hopefully, it will work for you too. Still, we cannot guarantee that as the deposit process depends on your banking setup.
UBS
When making the transfer, make sure to select "Execute payment in CHF" and then you can leave the fees set as "Automatic".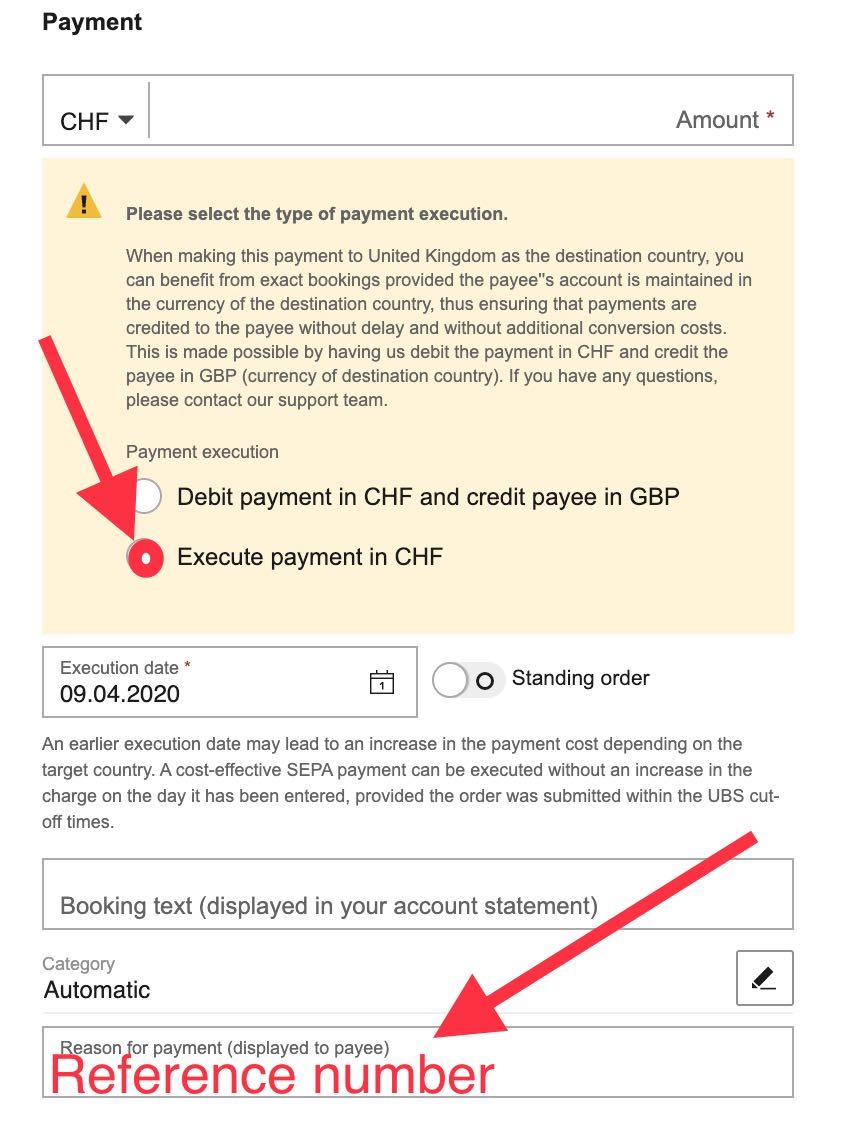 BCV (Banque cantonale vaudoise)
Be sure to select CHF in the bottom left corner and add your reference number under "Communication au bénéficiaire".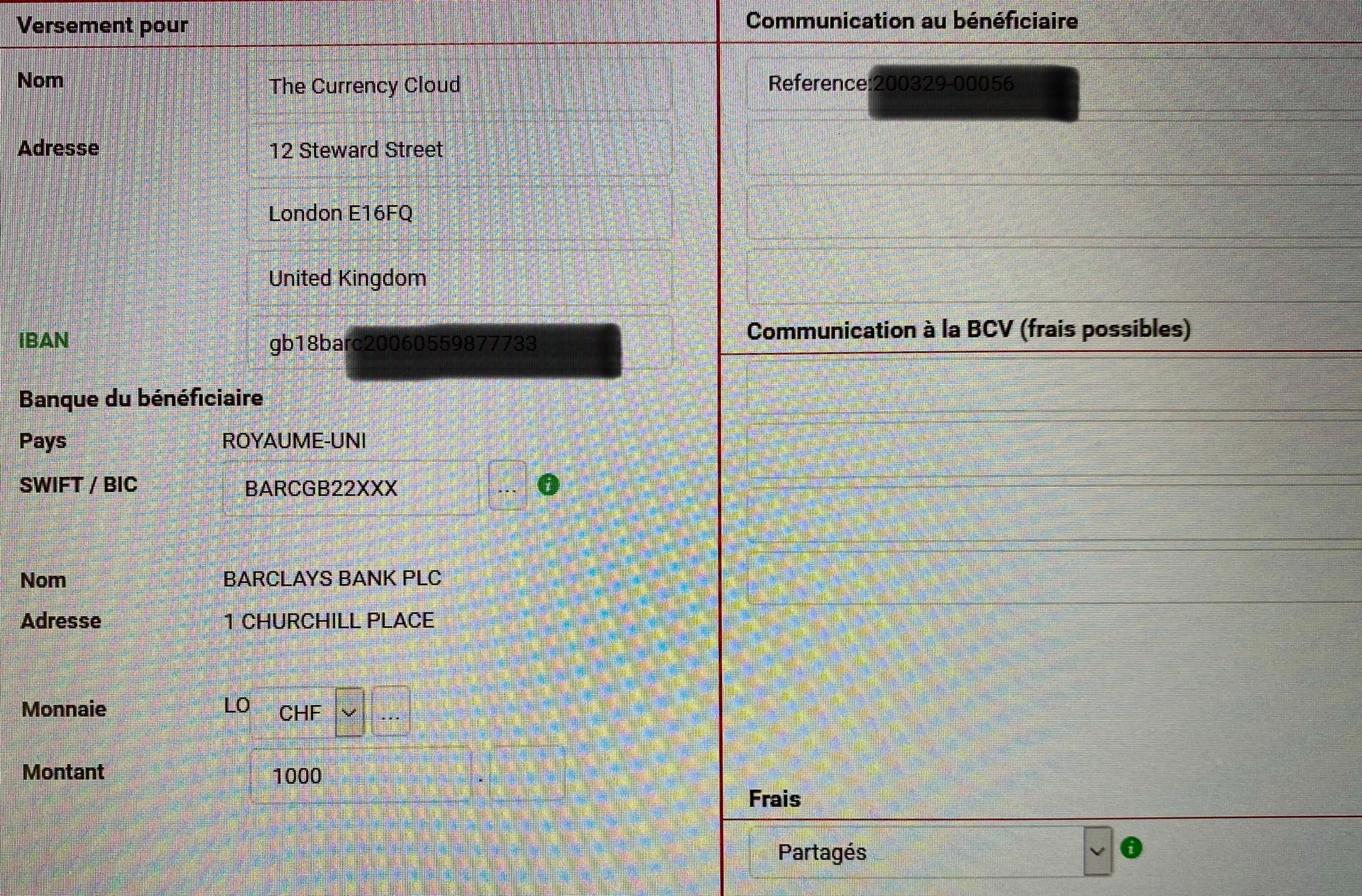 Credit Suisse
In the right column, be sure to select "CHF" as this is a CHF account.
In some cases, Credit Suisse has charged around 1.5% for the conversion from CHF to GBP. As we would receive the funds in GBP, we have no choice but to convert them into CHF.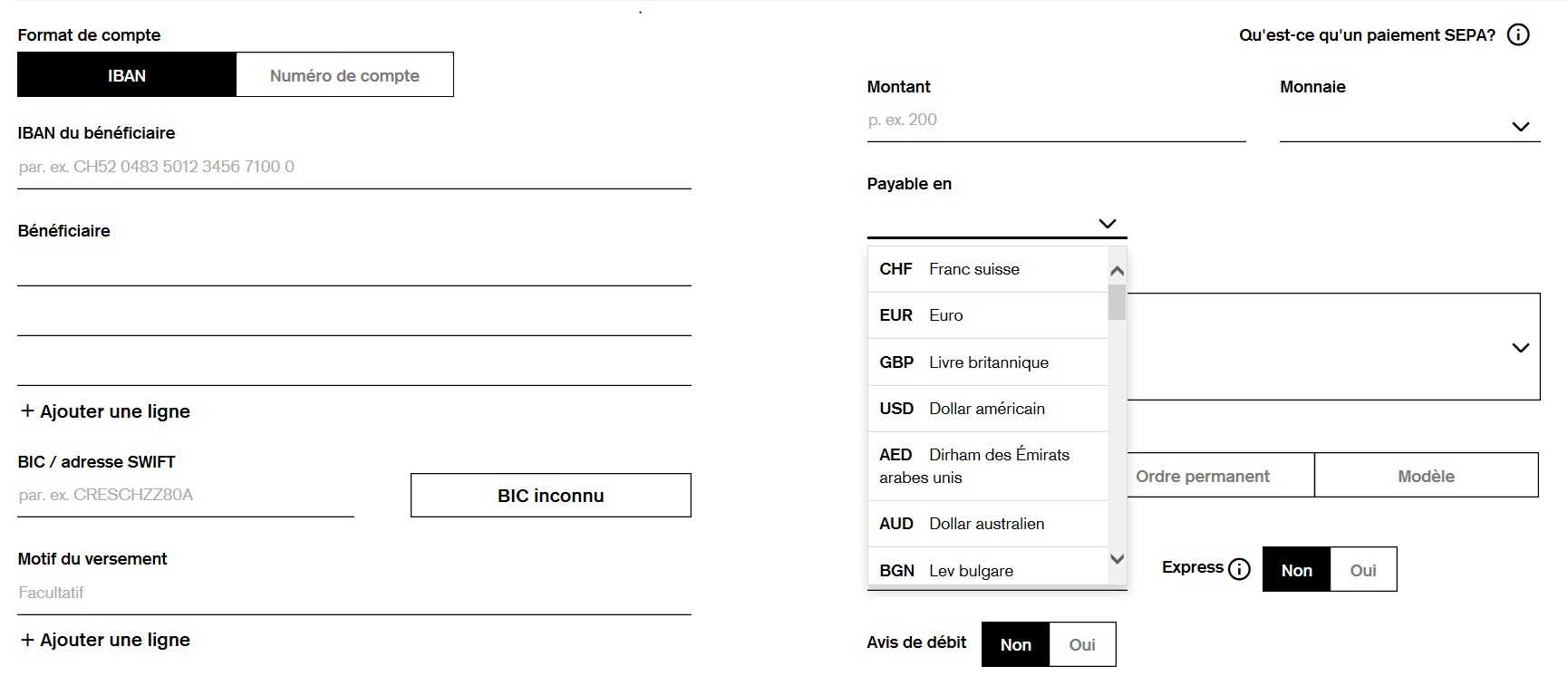 PostFinance
When making a transfer with PostFinance, be sure to select "CHF" and not "GBP".