If your account is associated with EUR currency, you might have seen that there are two options for you to make a fiat deposit and two types of bank credentials - the first is shown in the Local Tab, the second one is found in the SWIFT Tab.
Depending on the deposit type, you may choose either Local (SEPA) or SWIFT details. Please make sure that the bank details match the type of the deposit (SEPA details with SEPA type, SWIFT details with SWIFT details). We have two options as some banks can't process the SEPA transfers with the bank credentials from the SwissBorg App and the SWIFT deposit is the only option is such cases.

Please don't forget to use the reference number from the SwissBorg App when making a deposit (formatted as 2xxxxx-xxxxx). It's not obligatory to use it for SEPA transfers, but you may still take it from the SWIFT Tab and add with your transfer.
LOCAL DEPOSIT
Local deposit is associated with SEPA (or Single Euro Payment Area) system which provides payments in Euros with no restriction on the amount and within the Eurozone. SEPA aims to make cross-border EUR transfers within this area equivalent to a domestic transfer within your own country.
If your country is listed below, then you will be benefiting from SEPA each time you make a deposit.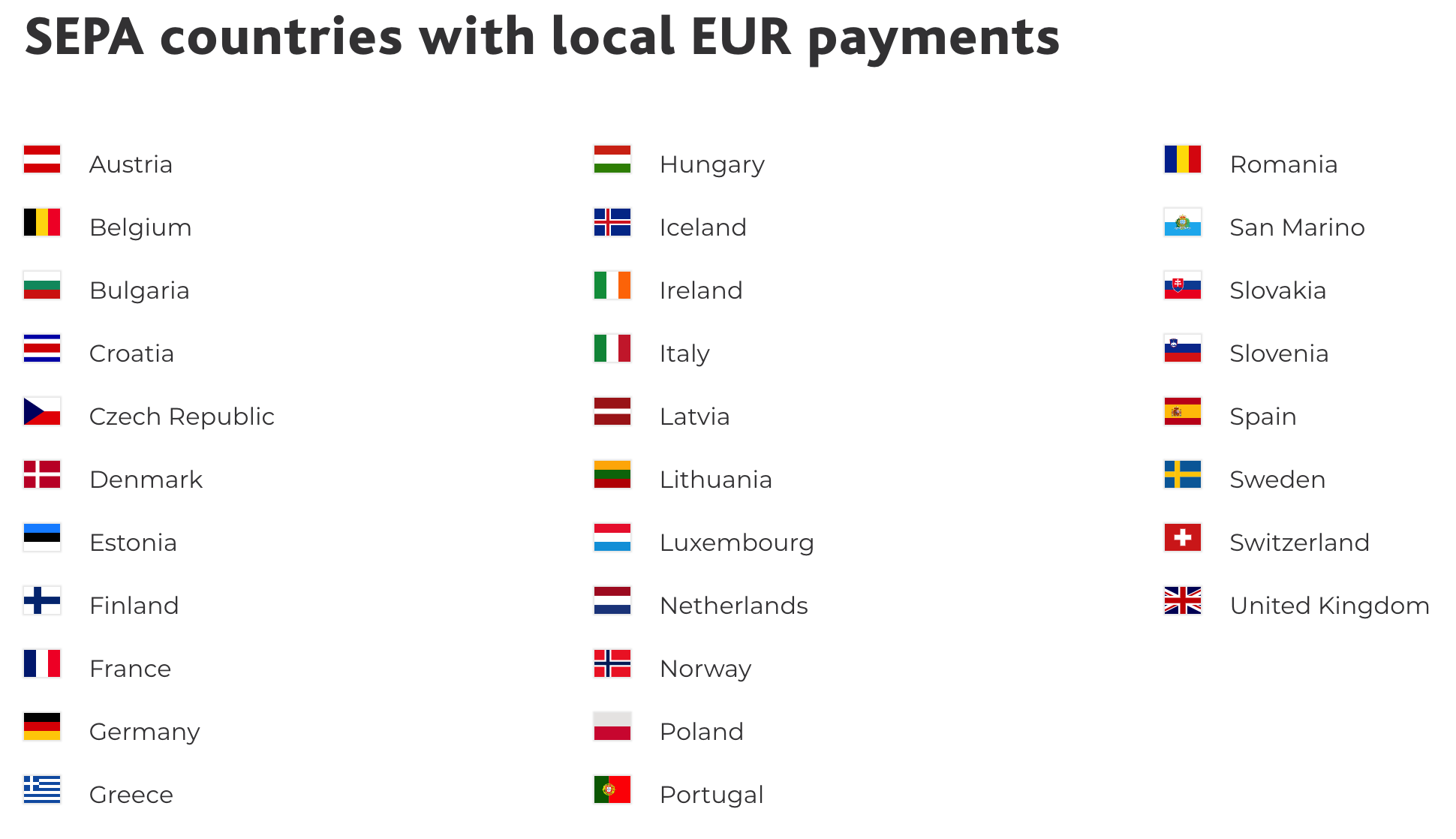 Please note that though Switzerland is a part of Eurozone, only SWIFT deposits are currently available for Swiss Residents.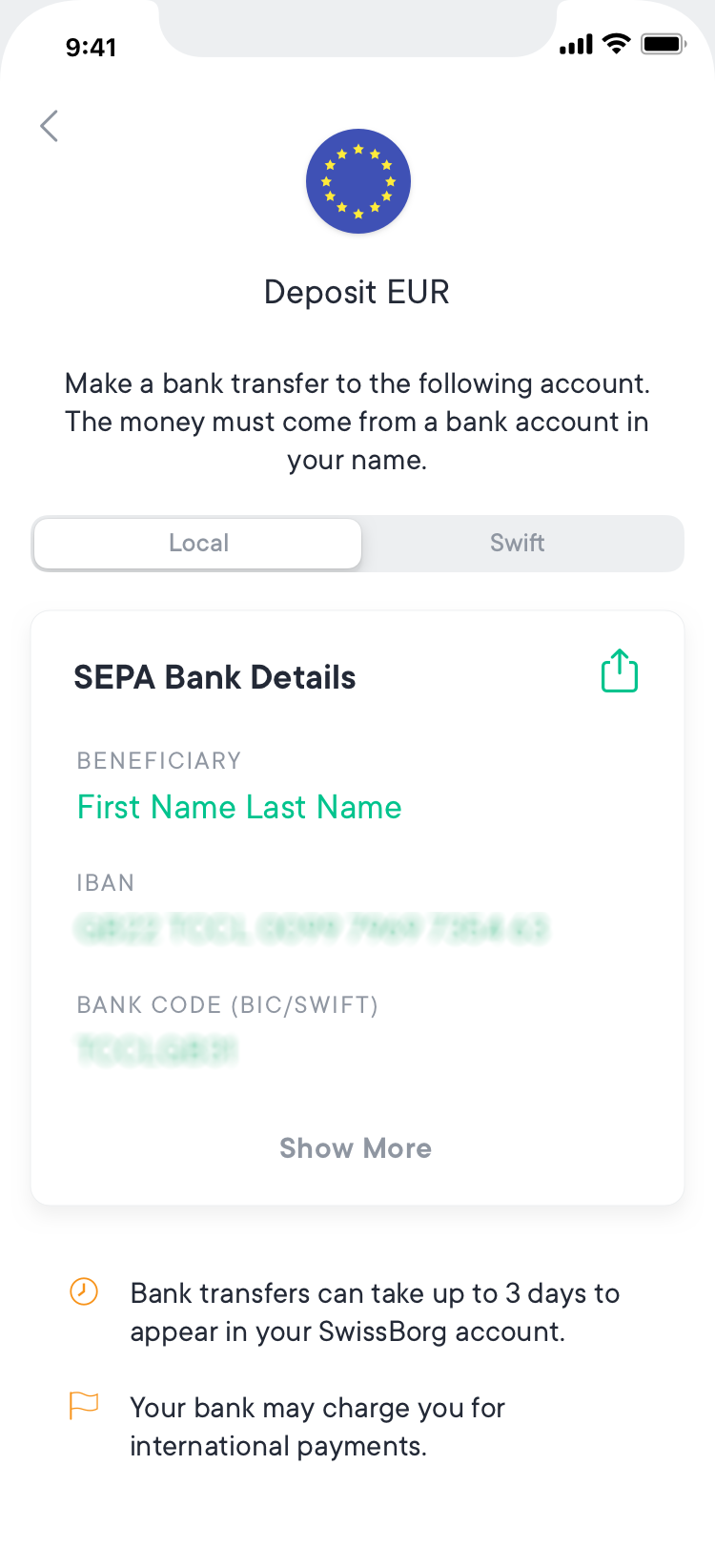 To benefit from SEPA bank transfer make sure to select local payment and shared fees.
Virtual IBAN for EUR Deposits Update
You don't need the reference number for EUR deposits anymore!
As of 3 March 2021, we have updated the Euro deposit details in the SwissBorg App for faster payment processing of SEPA payments!
Each user will now have a unique Beneficiary name and IBAN, and will no longer need to include a Reference code for their payments to be processed automatically.
Where to find your unique payment details
To find your unique payment details:
Open the SwissBorg App and tap Deposit
Tap the EUR card
Make sure Local is selected (not SWIFT)
Copy your new details from the app
Please use the new details for all future Euro deposits. If you have the old payment details saved with your bank or in other apps, please remember to update these details before your next deposit.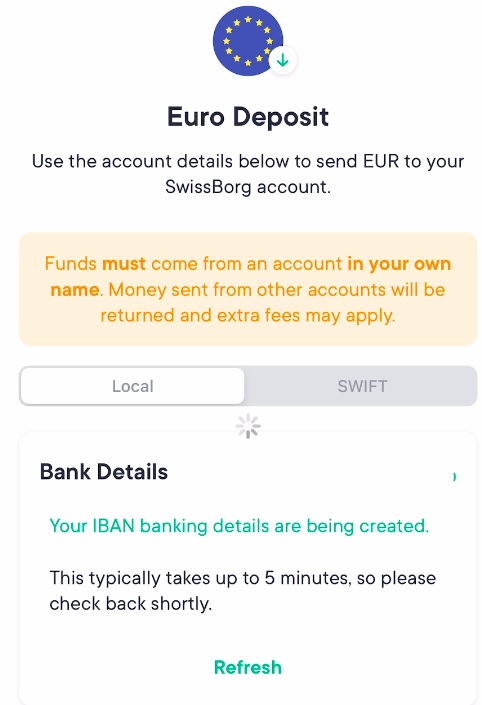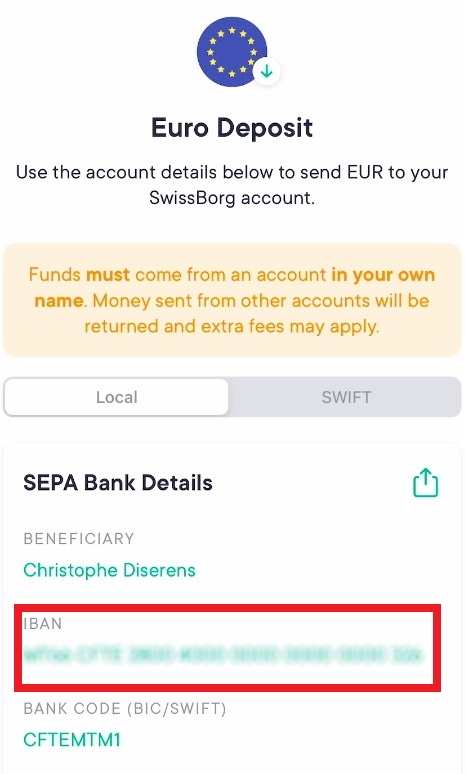 SWIFT DEPOSIT
SWIFT deposit is transferred with the help of Society for Worldwide Interbank Financial Telecommunications (SWIFT), which is a global system used worldwide.
The deposit process is quite similar for both Local and Swift transactions, the main difference is the reference in case of SWIFT payment.


Make sure to add reference when you fill in the IBAN and other bank details.
It will help us and our financial partners to identify your deposit faster.
If you need any help or unsure how to make a deposit, don't hesitate to contact us via support@swissborg.com
IMPORTANT!!!
If you'll try to make a deposit using SWIFT banking details with a SEPA network and vice versa, it will be rejected. Make sure to use SWIFT network for SWIFT deposits and Local network for SEPA deposits.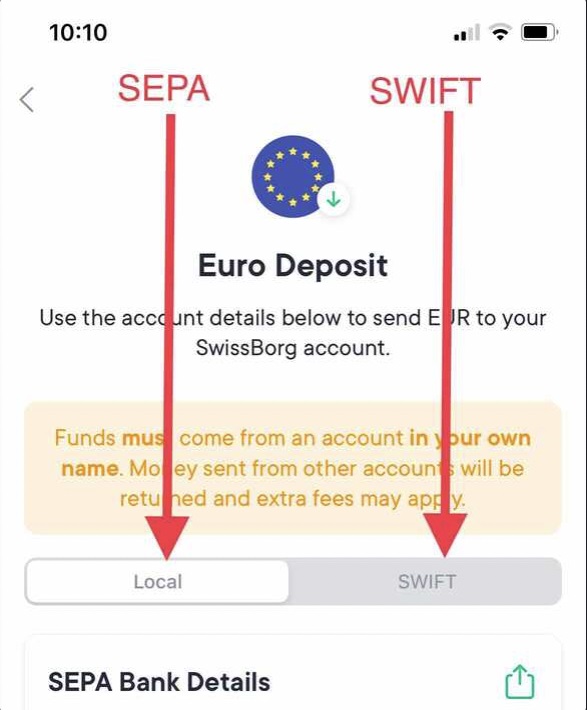 BEST PRACTICES FROM THE COMMUNITY
Spain

If you want to send a deposit with Caixa Bank, we recommend making a SWIFT transfer; many users have reported that their SEPA deposit were unsuccessful (i.e. funds were returned after few days, and they were charge about EUR 25). So, SWIFT deposits are preferable or alternatively we can suggest using another Spanish bank or Revolut.