The recovery phrase is a key to access your SwissBorg account and funds that consists of 12 randomly generated words. It's not created automatically, you'll have to personally activate the recovery phrase in your account. Here's how: Activate recovery phrase
With the recovery phrase you can easily recover your account if you had lost access, or add another device to your account, as long as you remember your passcode too.
Please note that your recovery phrase should never be shared with anyone, so make sure that you store it in a secure place. If you lose the phrase or suspect that someone else might have access to it, go to the Profile section of the app and tap on "Security" in the menu. Here you can find your recovery phrase (only the first 2 words are visible) and if you tap on it, you can revoke your current phrase instantly.
When you reinstall the SwissBorg app on your phone, or want to login to your account from a new device, this instantly triggers the account recovery process.
First you'll need to enter the phone number that is associated to your account and successfully pass the SMS verification.
*If you have a new phone number and don't have access to the one associated to your account, please contact our Support team for assistance with the phone number change.
Next, you will see 2 options in your screen to recover: "Recovery Phrase" and "Manual Recovery".
Tap on "Recovery Phrase", enter your 12-word recovery phrase and tap on Next to proceed.
The last step is to enter your passcode; if you have a numeric 4-digit or 6-digit passcode you will see the left screen and if you have a custom passcode, you will see the right screen.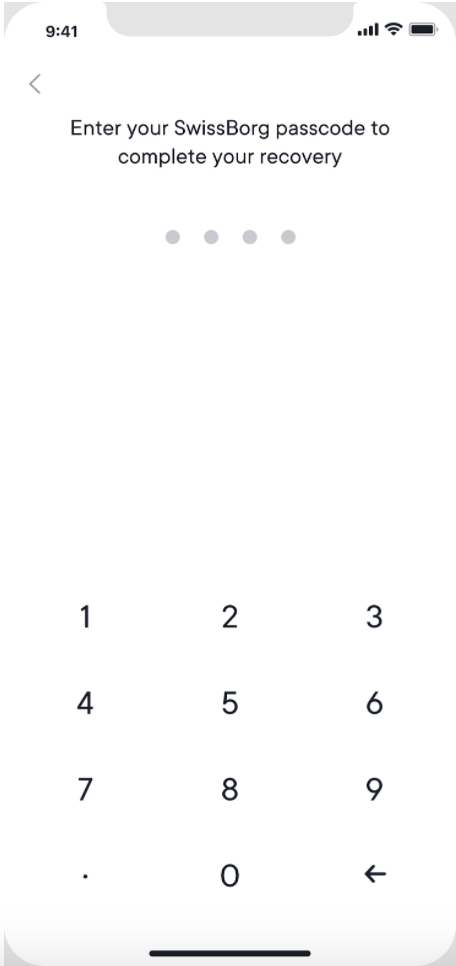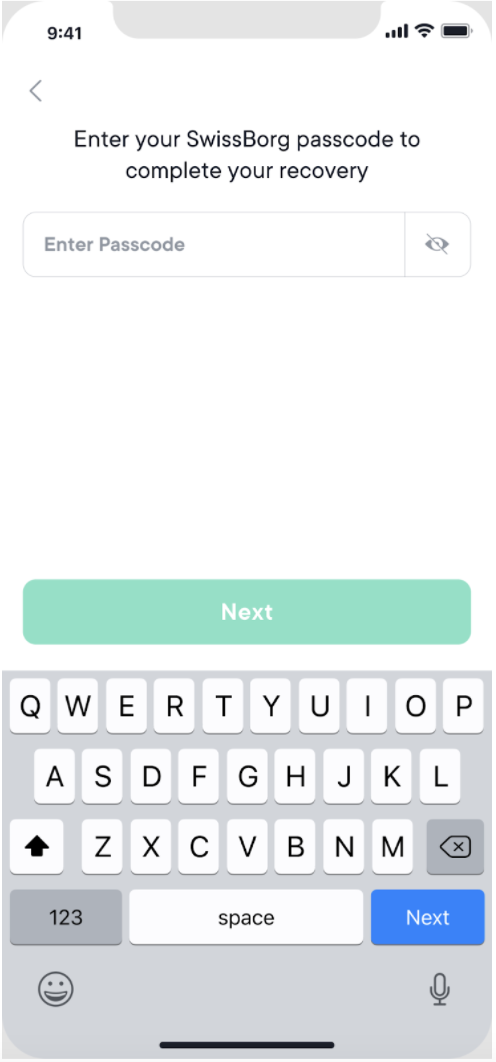 After successfully entering your recovery phrase and passcode, you have completed the recovery process and regained access to your account.
Please note that any form of recovery triggers the account freeze feature and that you'll have limited permissions during the next 48 hours.