SwissBorg has three account levels with different transaction limits, and those levels require different types of verification.
Level 1 - Proof of Identity: Deposits limited to EUR 5'000, Withdrawals limited to EUR 5'000.
Level 2 - Proof of Residence: Deposits limited to EUR 50'000, Withdrawals limited to EUR 1'000'000.
Level 3 - Proof of Funds: Deposits unlimited, Withdrawals unlimited.
If you have completed your Level 2 verification and your accumulated deposits/withdrawals are at least 30'000 EUR, you can submit documents for your Level 3 verification. If you don't choose to do this independently, you will be required to submit these documents when your deposits exceed EUR 50'000 or your withdrawals exceed EUR 1'000'000.
Level 3 verification is a one-time process required to comply with Anti-Money Laundering regulation.
To complete your Level 3 verification, tap the Profile icon in the top-left corner of the Portfolio section in the SwissBorg app.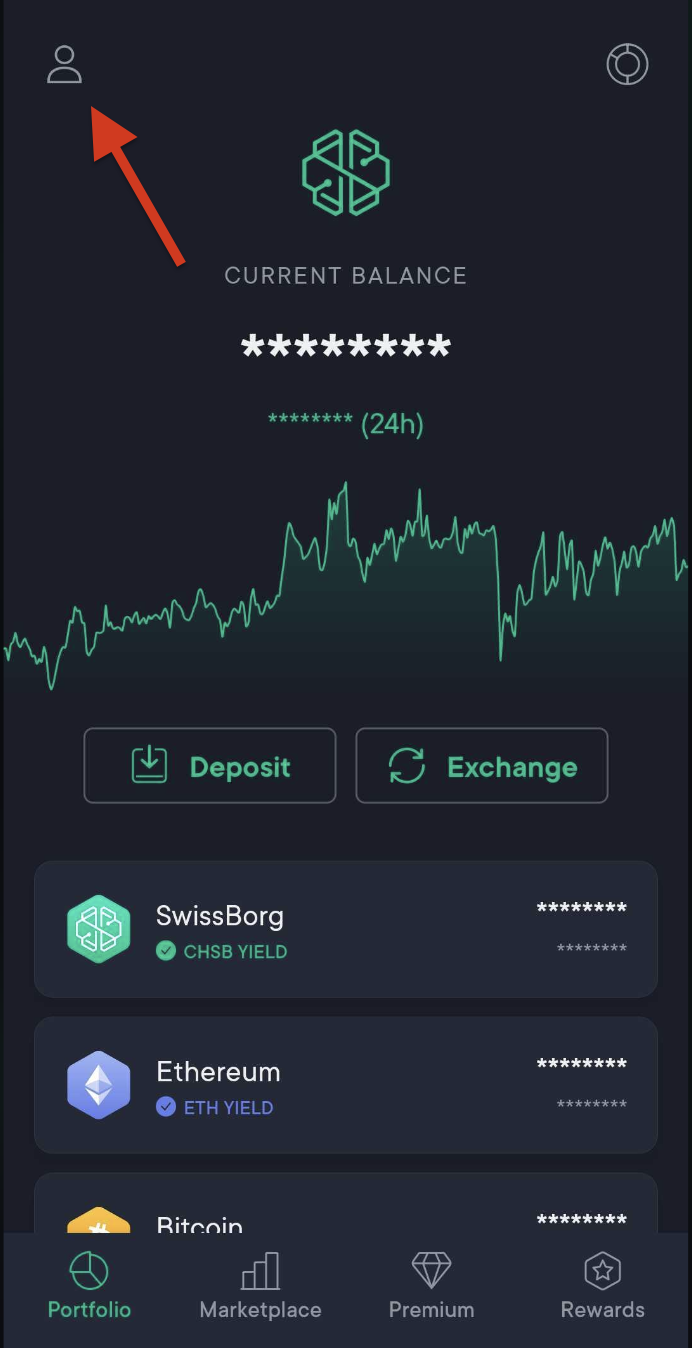 The next step is to navigate to Account Level.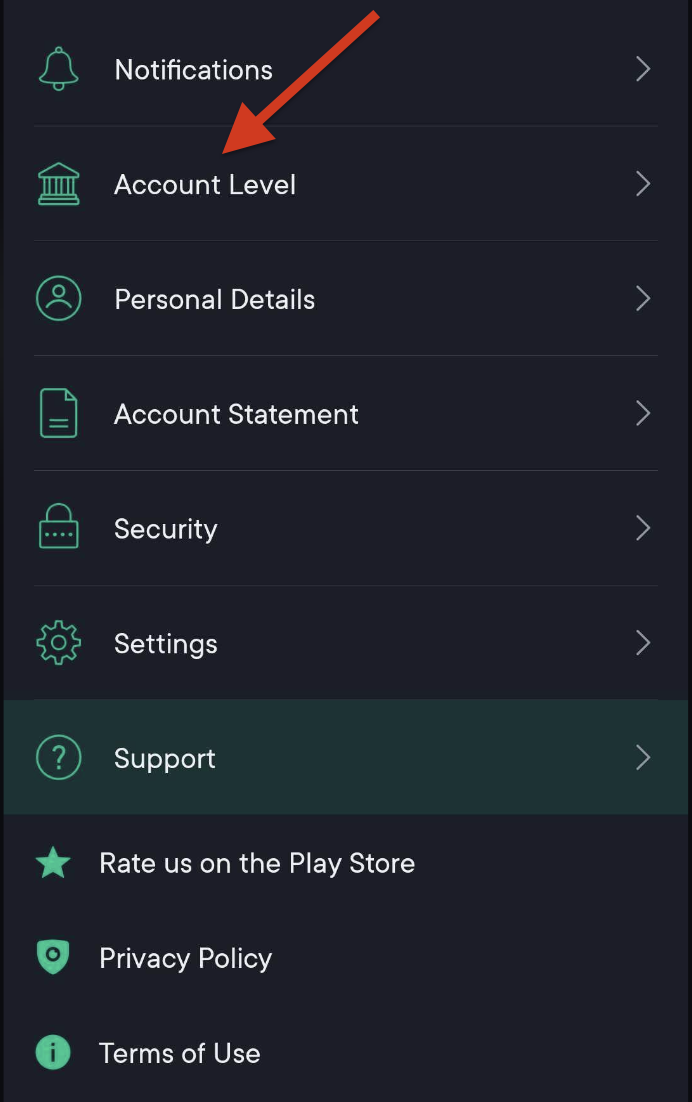 Here you will see your current Account Level and remaining Levels for which you require verification. Tap Verify Origin of Funds.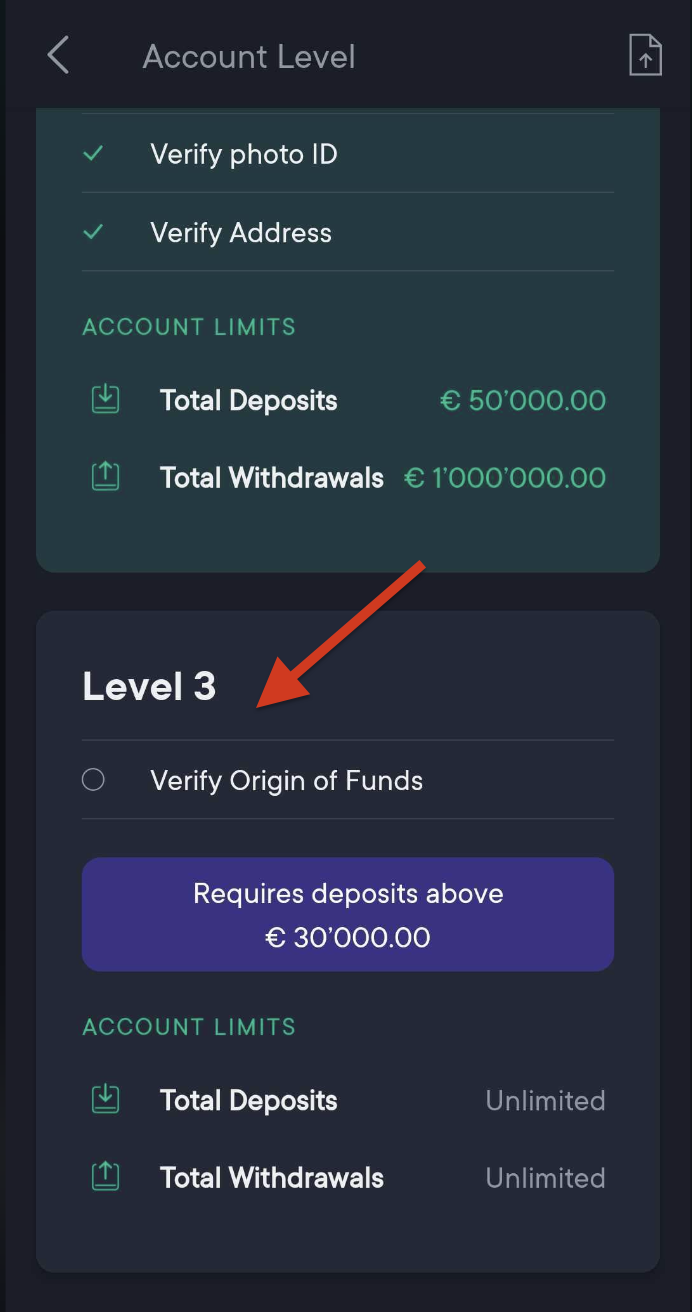 For Account Level 3 we perform a more in-depth KYC/AML check, in order to understand and verify your Source of Wealth (SoW). In order to assess this we need to request additional documentation/evidence that clearly demonstrates the origin of your funds. The evidence in question must be sent in full, but rest assured that, as a regulated entity, the information you provide is treated in strict confidence and is only accessible to authorised employees.
Here is an overview of accepted documents:
Employed

Salary slip 3-month-old (>3k euros)

OR

Bank statement confirming salary payments

Self-employed

Bank statement confirming income (past 3 months)

OR Invoices (past 3 months) AND Bank statement OR Tax statement confirming income

Inheritance

Inheritance documents

AND

Bank statement confirming inherited funds

Business owner

Documents confirming ownership

AND

Personal bank statement confirming funds received

Pension

Bank statement confirming pension

OR

Pension payslip

Savings

Bank statement confirming

AND Explanation

OR any documents confirming how savings were generated

Investments

Investment portfolio

AND

Explanation of generated funds OR

Share sale agreement

AND bank statement confirming sale

Family financial support

Bank statement with deposits OR

Donation documents

AND

Bank statement confirming receipt of donation OR

Loan agreement

AND

Bank statement confirming receipt of funds

Property Sale

Deed of ownership + Completion Statement AND Bank statement confirming receipt of funds
If a crypto deposit triggered the account level upgrade, in addition to any documents confirming your incomes we would also need you to upload:
Crypto trading/sale documents or statements;

Crypto portfolio/holdings;

Bank statements showing the transfer of funds to crypto exchanges for the purchase of crypto currencies.
In case you have any additional comment or question, please contact our support team.