If you share and are passionately committed to a vision built on meritocracy where anyone, from anywhere, and at any time can contribute and get rewarded for building the future of finance, then the SwissBorg is for you!
The CHSB is the key to an ecosystem that is directly linked to the success of the SwissBorg App, and more importantly, to the strength of our community that will allow us to consolidate growth.
To make the contribution process mutually beneficial, SwissBorg developed a Premium Account feature: customer gets reduced commission fees on certain pairs (such as BTC/Fiat currency, CHSB/Fiat currency or BTC/CHSB) by staking CHSB tokens directly in the SwissBorg App driving up short & long-term demand with the current crypto community and all future adopters.
To become a Premium SwissBorg App member and to access 0% commission trading on BTC and CHSB you need to follow few simple steps:
- Login through the SwissBorg Apр
- Buy CHSB with the currency of your choice (Fiat or crypto)
- Put on hold 50'000 CHSB tokens for 12 months*
- Now you are exempt from trading fees on BTC, CHSB and Fiat.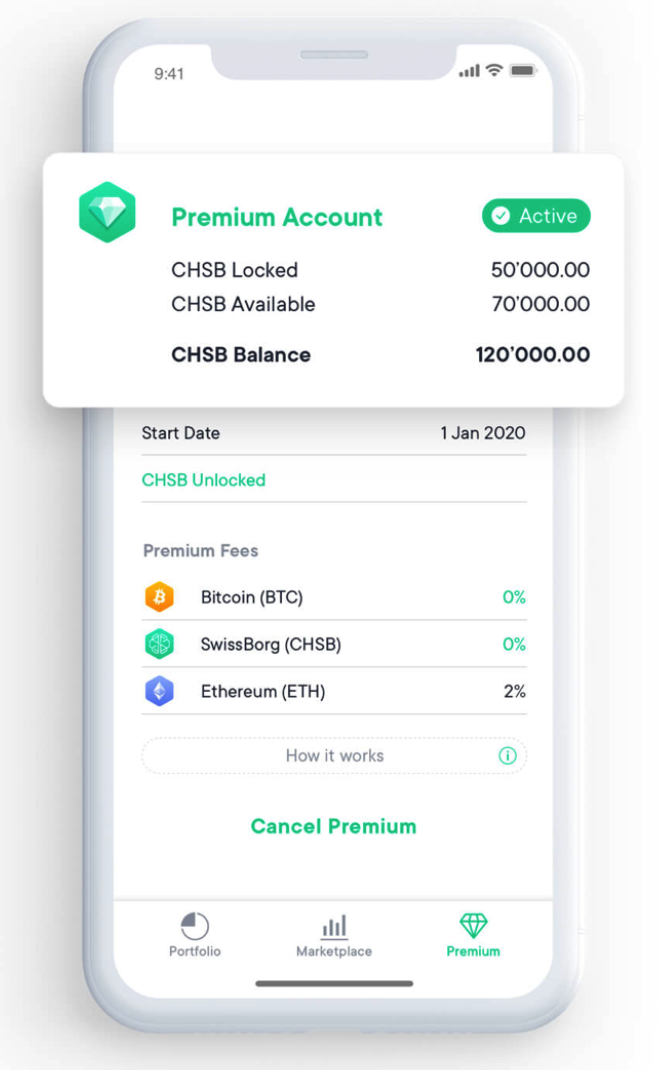 Be aware that during this time you will not be able to withdraw your tokens.
Please note that once you confirm the activation of the Premium upgrade, the Team cannot cancel it and the account will stay Premium for 12 months without any exceptions.
*ICO contributors can access the premium feature at a discounted rate provided they used the email address they use for the ICO